Place orders at: GALLERYPANELS.COM
Order Yours Today!
CONTACT US

P.O. Box 979
Guthrie, OK 73044
1-800-278-4279
405-282-7584
FAX 405-282-1130


---
Protect Your Investment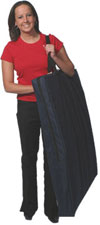 Carrying Cases help keep your panels clean and organized.
They are made from a durable, water resistant polyester cloth
and easily close with a zipper. The handles are designed to
help you move the panels onto a dolly or depending
on the size help you carry the product.

For Sizes and Prices Click Here
Prices
Vary depending on size.
Click the link above for sizes and prices.

Carrying Cases are available for:
The Gallery
Stackables
Gallery Ladder
Gallery Stackable Ladder
Gallery Ladder Shelves
Fold-A-Desk
Tabletop
Pedestals
Hanging/Support Rails
The Stabilizer Bar
Print Bins